Before you contact Limisengi's Pugs looking for a pug, you should know the following answers to these most commonly asked questions: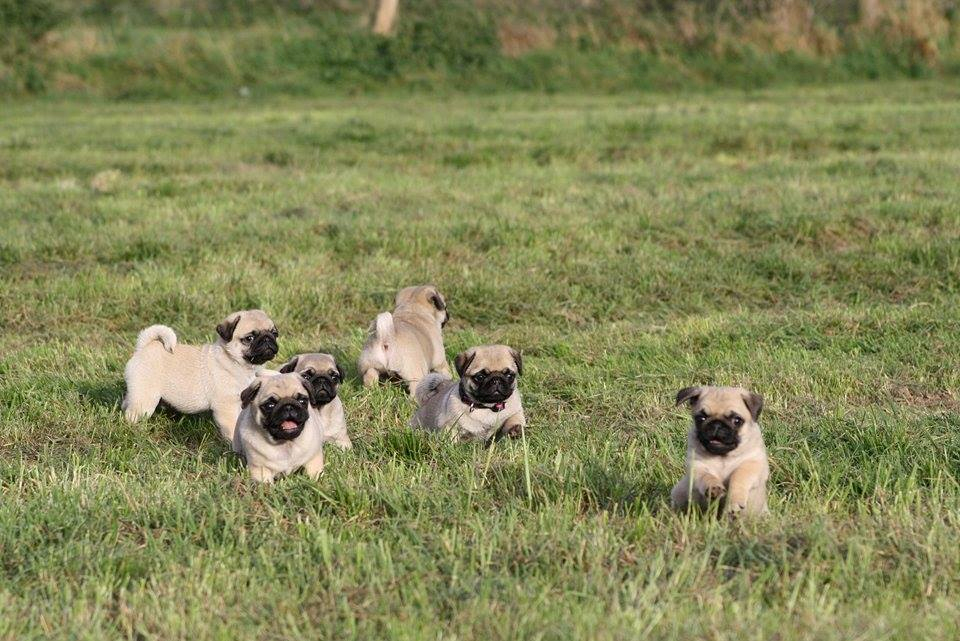 Why purchasing a "Limisengi's" Pug?

Limisengi's Pugs was formed as a labor of love. Much time is devoted to the care of the Pugs. The dogs are loved, pampered, and trained in the social aspects of a family environment, since it is our intention that all of the dogs become members of the families that they will eventually live with.
Since so much time is spent devoted to the development of each puppy that we bring into the world, few litters are born per year. Limisengi's Pugs are not bred with the intention of raising money from selling the puppies, but to improve health and conformation, hence improving the Pug breed. Our dogs are tested on HV, patellar luxation and hereditary eye diseases. Heart and respiration system are thoroughtly examined.
The pups are always born under careful supervision and assistance is given to the mother and the pups are held immediately. The puppies are always born and raised inside our home to get them used to household noises and family sounds.

Do you have any puppies available now?

We only have a litter when another pug is needed for showing so puppies are not always available for adoption at any given time. Please check "puppies" to see if any pugs are currently being offered for adoption.

What do I have to do to reserve a Limisengi's puppy?

If you are interested in one of our puppies, please keep in touch as I don't keep a waiting list. I feel that if you are interested it is up to you to let me know.

Follow the "puppies" pages on our website (breeding plans, upcoming litters, available …) and do not hesitate to contact me for more information.

Once our babies are born, they can be reserved by paying an advance, a measure that we unfortunately had to take because of bad experiences in the past.

Do you have any pet pugs? I'm not interested in showing or breeding, I just want a pug to love!

Absolutely! It is always nice that our pugs are shown, but the most important is a loving family.
Occasionally, we have adult pugs available for adoption by carefully screened homes.
Just consider this: Pugs are great little companions, but consider you take them into your home for at least 10 years!

Can I get a health guarantee in writing? Do you have a contract?

Yes, and yes. Here's why:
The written agreement was designed to eliminate the horror stories that have been heard over the years from happening to Pugs, their families, or other dogs. Too many times can breeders be heard lamenting about dishonest owners taking advantage of them, dog owners complaining of purchasing sick or inferior quality dogs from unscrupulous breeders, and rescue organizations telling tales of irresponsible owners neglecting or abusing dogs.
Almost always when one asks these people if they signed or utilized a contract, the answer is "no". Unfortunately, because they had no written agreement, they usually have nothing to fall back on to protect themselves when these unfortunate or unpleasant conditions crop up. Sadly these same people are often the ones who said that they didn't think it was necessary to have a contract since they were "only buying/selling a dog." Only later, when it's too late, do they realize how necessary a contract is.
The written agreement is a living document designed to protect three entities: Limisengi's Pugs, the dogs' new families, and – most importantly – the dogs. The contract has been read and approved by an attorney.

Does a pug need more attention then other breeds?

No, on the contrary. A pug doesn't need long trim sessions, he doesn't need to be washed every week, he doesn't need to be brushed etc…
Just give him lots of love!!!
Do pugs have any health problems?

Yes. Pugs, like any other dogs, can experience health problems.
Some of the most common genetic problems are PDE, enthropian, distichiasis, HD, HV and Patellar Luxation. One good resource book on pugs that is available for purchase online at Amazon is Living With A Pug.

Is it true that pugs can't stand the heat?

When you're hot, your pug is too. You don't get in the sun at a temperature of 35C° and you certainly don't go out for a walk! Well, your pug feels the same way.

Do Pugs get along with kids?

Absolutely! Pugs love kids, as they love everybody.
But… this doesn't mean that the child in question has to torture the dog, he has to know his limits!
I live in an appartment. Is that a problem?

It depends on you. If you have the discipline to walk your dog several times a day, there is no problem at all.

We are a couple and we both work. Can we keep a pug?

If you both work, I presume you can effort a pug and the care for it. It only depends on the hours you work. When your dog is alone from nine to five, what's the use having him?

My Pug has a health/behavior problem, can you help?


 No. I am neither a veterinary nor behaviorist service so I cannot presume to give out knowledgeable public advice regarding your own personal pug's health or behavior. This is the job of vets and dog schools.
I show pugs but I don't live near Belgium. Can I get one of your pugs?

Yes, of course. We'll discuss together how the puppy will get to you.

If you have pups, when can I see them?

Not before the age of 3 weeks. I don't want to disturb the mother too much and I want to avoid contamination.

 I'm looking for a stud for my female Pug. Can you help me?


That depends. Stud service is only offered to approved Pug females for the purpose of improving the Pug breed.

Fresh chilled or frozen semen are available. We work with Dr Maarten Kappen's Cryolab.

 If I adopt a Limisengi's Pug, can I contact you again with any further questions?


Yes! Those who adopt a Limisengi's Pug are considered "extended family members". I am available 24-7 for these persons via email and telephone. Great effort is taken to return all emails as quickly as possible. Our policy is "If you're wondering about your pug, call us!"